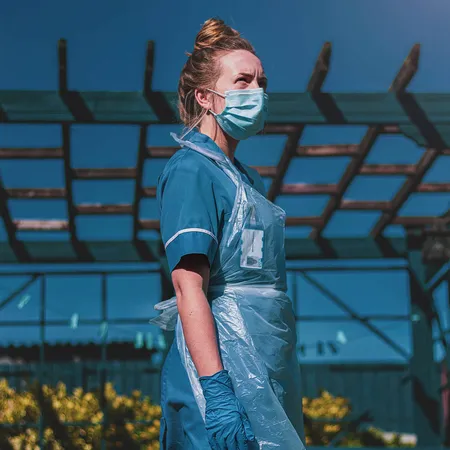 Healthcare workers with long Covid and the financial support available if sick pay dries up
Healthcare workers with long Covid and the financial support available if sick pay dries up
Healthcare workers are seven times as likely to have severe COVID-19 infection than those in other jobs, according to a study published in the journal Occupational & Environmental Medicine.

During the first lockdown, children drew rainbows for the windows and families gathered on the front step to clap for carers. But as the months wore on and public support for those working on the frontlines began to dim, one thing refused to disappear – healthcare workers' risk of contracting Covid simply by doing their job.
What's more, of those in the health sector that have had coronavirus, more than 100,000 are suffering from long Covid, a range of symptoms that can last weeks or months and can include respiratory issues, fatigue, headaches, palpitations, anxiety, depression, 'brain fog' and loss of taste or smell and have been unable to return to full-time work.
But more than a year after the first lockdown began, many are struggling to make ends meet after their sick pay dried up.
Healthcare workers were asked to go to work and save lives while everyone else was asked to stay at home
"Healthcare workers were asked to go to work and save lives while everyone else was asked to stay at home," says Layla Moran, chair of the all-party parliamentary group on coronavirus (APPG).
"Long Covid is the hidden health crisis of the pandemic, and it's likely to have an enormous impact on society for many years to come."
"When it comes to frontline NHS care and key workers, they were specifically asked to go to work and save lives while everyone else was asked to stay at home."
"They were exposed to an increased level of risk of catching the virus, often without adequate levels of PPE… They are the true heroes of the pandemic and, sadly, many have developed the debilitating effects of long Covid, meaning that they are unable to return to full-time work."
At least 122,000 NHS personnel have the condition, according to the Office for National Statistics.
That is more than any other occupational group and ahead of teachers, of whom 114,000 have it.
The All-Party Parliamentary Group (APPG) on Coronavirus has called on the Government to launch a compensation scheme for frontline workers who are suffering from the long-term effects of coronavirus and recognise long Covid as an occupational disease.
But while compensation will be helpful for families impacted, many healthcare workers need financial support now to simply keep the roof over their head.
If this sounds like you, here are your options:
Around 122,000 NHS personnel suffer from long Covid
How much sick pay can I get?
For NHS staff on national conditions, sick pay is normally set at up to six months full salary, followed by up to six months of half salary, depending on your length of service.
Full details about sickness absence entitlements for England, Wales, and Scotland and Northern Ireland.
However, the Department of Health and Social Care (DHSC) issued guidance in March 2020 that NHS staff should receive full pay when self-isolating or ill with COVID-19.
A spokesperson for the British Medical Association said: "For the time being, doctors who are off sick with Covid are entitled to full pay and any sickness absence should not be counted for the purposes of any sickness absence triggers of sickness management policies.
"We are aware that DHSC intend to change this at some point, but they have not given an indication as to when that might be."
Meanwhile, most frontline care workers who are employed by the private sector rather than the NHS should check their contracts for specific sick pay provisions if they are too ill to work.
If your employer doesn't offer a better deal, you may be entitled to statutory sick pay (SSP) instead, which is paid by your employer at £96.35 a week for up to 28 weeks.
To qualify, you must be employed and earn an average of at least £120 a week.
If you cannot work because of COVID-19, you are entitled to SSP for every day you are off work, rather than waiting until the fourth day for SSP to kick in.
For families reduced to living on half-pay or facing low rates of statutory sick pay, it can be impossible to keep up with household bills and living expenses.
Financial support beyond sick pay?
Aside from sick pay, people in dire financial straits may also be entitled to Employment and Support Allowance and Universal Credit which can include extra payments for those with health conditions or disability that prevent them from working.
Those with long term health conditions can also apply for Personal Independence Payment (PIP) if they have had daily living and/or mobility needs for three months and are expected to have needs for at least a further nine months.
The daily living part of PIP is paid at either £60 or £89.60 a week, while the mobility part is either £23.70 or £62.55 a week.
The issue with long Covid is that understanding of this new condition, its symptoms and how long they might last is still developing.
Compensation for COVID-19?
Medics, unions and MPs, including an all-party parliamentary group on coronavirus are campaigning to have long Covid classified as an 'occupational disease', meaning that frontline staff who caught the virus at work could potentially claim financial compensation.
NHS terms and conditions contain injury allowance provisions which top-up sick pay to 85% of earnings instead of half-pay where an illness is work-related.
A BMA spokesperson said, "Designating long Covid as an occupational disease would be helpful as it would make it easier for doctors to claim and receive the temporary injury allowance which is in their contracts.
"It would also ensure that doctors who return to work and then experience long Covid would have the opportunity to have a new episode of sick leave, as their initial sick leave occurred as a result of an illness that they could demonstrate was contracted in work.
The spokesperson concluded, "Doctors who suffer from long Covid should be fully protected and not penalised financially or otherwise for having put themselves at risk to support the NHS."
Returning to work
NHS staff affected by long Covid can ask for support with returning to work.
The DHSC confirmed that "regular reviews should be carried out for staff off sick long term, to determine what action is needed, for example, occupational health advice and support, reasonable adjustments, a phased return to work, re-deployment or potentially ill-health retirement."
According to the DHSC, a comprehensive wellbeing package is in place specifically to support NHS employees recovering from long Covid, including occupational health and wellbeing pilots covering more than 700,000 staff.
Further information and support
NHS England has opened more than 80 long Covid assessment clinics to support people (not only NHS staff) experiencing long term effects of COVID-19.
Employment advice is available to BMA members by calling 0300 123 1233, emailing [email protected], or chatting with an adviser online.
BMA Counselling is available to all doctors and medical students, regardless of membership, on 0330 123 1245.
Don't forget that while you may think that this article is brilliant, it is intended for information purposes only and should not be mistaken for financial advice or recommendations.
3 things
to do
right now
---
1
If you feel you might be experiencing symptoms of long Covid then speak to your doctor immediately.
2
If you're diagnosed with long Covid then check your employment contract – whether it's the NHS Handbook or a private sector contract – to see what you are entitled to as sick pay or as help with returning to work.
3
If long Covid symptoms make it difficult to return to your normal job you could seek support from, for example, your occupational health department to see if reasonable adjustments could be made to your role.
Don't forget that while you may think that this article is brilliant, it is intended for information purposes only and should not be mistaken for financial advice or recommendations.
Has this page made you feel better about managing your money?
---