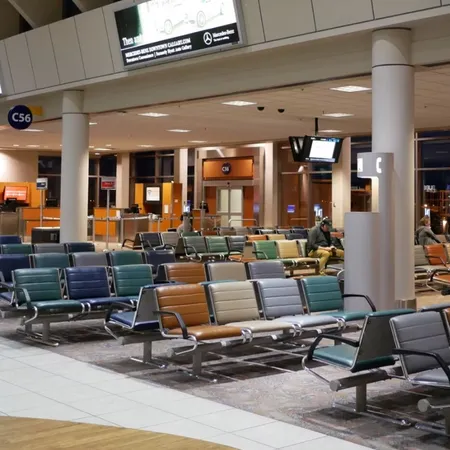 How to get the best deal on a PCR test
How to get the best deal on a PCR test
Life is never boring with Covid-19 is it? Just when we think things are returning to normal, a new variant rears its ugly head.
The latest twist to the ongoing pandemic is another new variant, this time it's called Omicron, and the UK government has announced a range of new measures to try and curb the spread of the virus.
It's been almost two years now since the first UK lockdown and it's fair to say things can change pretty quickly, within hours in some cases.
Anyone aged 12 or over needs to show a negative PCR or lateral flow test result before they travel to the UK.
The test must be taken in the two days before travel. If it is positive, you need to isolate yourself in the country you're in, depending on its rules.
While waiting for your PCR result, you need to self-isolate. Then if you test positive, you'll need to self-isolate for 10 days.
Anyone arriving in the UK also needs to fill in a passenger locator form, no more than 48 hours before arriving, even if they're not staying in the country and just passing through.
As the rules change so often, it's always worth checking on the UK government website before you travel.
Unvaccinated travellers will also still need to follow slightly different rules including tests on day two and eight of arriving in the UK and self isolating for 10 days when they arrive.
These rules are temporary and are set to be reviewed regularly. At the moment Germany and France aren't allowing UK nationals to enter, although more countries could be added to this list, or removed from it, at any stage. The Foreign Office website has details on restrictions in other countries.
What tests do you need for travel?
Before you travel, it's important to check what the rules are for Covid-19 tests.
This is because the situation is changing rapidly with different countries announcing their own rules and restrictions for travel.
The latest government measure means that anyone who arrives in the UK, from any international country, must take a lateral flow test, or a PCR, in the two days before they arrive in the country and a PCR test on day 2.
It's worth noting that the PCR test taken after you arrive, doesn't need to be taken on the second day after your return from overseas – it can be taken at the airport immediately after you land, or any time on or before the end of the second day after you return, meaning you're able to minimise the time you're isolating for before getting the result.
All contacts of suspected Omicron cases also need to self-isolate, no matter what their vaccination status is.
It's not possible to use the NHS for this type of PCR test and a lateral flow test (LFT) won't be accepted either.
Previously, the rules depended on your vaccination status with fully vaccinated passengers able to take either a PCR or a LFT test.
You'll need to book your day 2 PCR test before you travel, and you'll need the reference number to put on your passenger travel form when you arrive in the UK.
How much will a Covid test cost?
Unfortunately, even though the rules have changed again around Covid testing, the problems of finding an affordable test are still in place.
One of the major problems is that there is limited regulation over what providers can charge.
The government has a list of approved private test providers where you can compare costs and services.
Costs vary depending on the provider, and where you are in the country, with those offering quicker results typically charging more.
Your airline or travel operator might also be able to recommend a provider to use where they've negotiated discounts with private providers, but you need to be travelling with them to get the deals.
Prices vary but can cost as much as £395 when we checked on the government's list of 461 providers.
Most require a self-swab at home but for the more expensive tests, someone may come to your home to assess the test being carried out. These generally have a faster turnaround time.
The cheaper tests tend to be sent by Royal Mail and therefore may need to be booked in advance, so it arrives in plenty of time.
You'll need to make sure the provider is included in the government's providers list because this means it meets the correct standards as set by the UK accreditation service (UKAS).
Before you choose a provider always check:
The cost involved
How you need to pay and when
Reviews for the provider
Where and when the test will be taken
If you have a problem, you can make a complaint about a test provider via the NHS website.
If you fail to do a PCR test, or break any other Covid travel rules, you may face a £10,000 fine.
Do you need to isolate in a hotel?
If you need to self-isolate, you will need to follow the current government rules for self-isolating.
These will include not going to work, school or public places, using public transport or taxis, visiting shops to buy food or anything else or visiting friends or family members.
The rules do change, so always check the latest rules on the NHS website before travelling.
There are different rules for those arriving from a country on the red list.
Here you will need to take a Covid-19 test in the three days before you travel to England, book a quarantine hotel package which includes taking two more tests, and complete a passenger locator form.
This is the case even for fully vaccinated travellers.
There are full details about booking a quarantine hotel package on the gov.uk website.
It will currently cost £2,285 for one adult in a hotel room for 10 days, an additional £1,430 for any more adults or children aged 11 and £325 for children aged between five and 11.
If you fail to do this, or break any other Covid travel rules, you may face a £10,000 fine.
Don't forget that while you may think that this article is brilliant, it is intended for information purposes only and should not be mistaken for financial advice or recommendations.
3 things
to do
right now
---
1
Compare the cost of getting a PCR test. Travel companies and airlines tend to be the cheapest with private clinics charging the most.
2
Check the test you're getting is genuine and is the right kind of test. The government's advice changes regularly so make sure you know exactly what you need before you hand over your cash.
3
If ordering a home testing kit, book it as early as possible to minimise the risk of delays. Ideally, aim to have your testing kit arrive before you depart.
Has this page made you feel better about managing your money?
---